I'm just popping in during our Advent break since I got a little window of time to think and relax with a good cup of tea.  In planning our spring term and participating in some online discussions regarding educational philosophy, I had some thoughts I thought you might be interested in reading.  I hope you're having a lovely time preparing for Christmas!
Our chief concern for the mind or for the body is to supply a well-ordered table with abundant, appetising, nourishing and very varied food, which children deal with in their own way and for themselves. This food must be served au naturel, without the predigestion which deprives it of stimulating and nourishing properties and no sort of forcible feeding or spoon feeding may be practised. Hungry minds sit down to such a diet with the charming greediness of little children; they absorb it, assimilate it and grow thereby in a manner astonishing to those accustomed to the dull profitless ruminating so often practised in schools. – Charlotte Mason, Vol. 6, p. 71 (emphasis mine)
A few years back, I read the book Desiring the Kingdom, by James K. A. Smith and it fascinated me.  I found myself alternately nodding in agreement and shaking my head in dissent, but I was so intrigued.  His ideas about education being the formation of a person rather than offering information were key in how I thought about my school day.  I vigorously agreed that we are more than our minds, we are embodied, and so what we do – our habits, our daily rituals, how we spend our leisure time, etc. – are as formative, or more so, than the facts we learn.  Also, the how forms us as much as the what of our learning.  This is also around the time I found Charlotte Mason.  I read her volumes and I delighted in the fact that she talked of learning through stories, of habits, being outdoors, learning handicrafts, having conversations, and that all of this was good because it was all from God Himself.  She talked of the mind, but she talked of the body as well – exercise, fresh air, proper clothing, and proper food.  She did not ignore the body, but rather found body and mind to be analogous in their needs – a proper diet being the one need she mentioned over and over.  Both body and mind needed varied food that they would then absorb, asssimilate, and would allow them to grow.
"…these virtues are formed in man by his doing the actions."  -Aristotle
Another person who read Smith's book was Jenny Rallens.  I watched her video on having a Liturgical Classroom (a term used not in terms of Divine Liturgy, but rather repeated practices or habits) and realized that this idea is so much older than Mason.  From the days of Origen, who claimed them to be based in Jewish religious practices, to the present day Christians have been practicing Lectio Divina, or a holy reading of scripture through the process of Lectio, Meditatio, Oratio, Comtemplatio.  In translation – to read, to think deeply, to pray, and to be changed (their definition of contemplation was more robust than ours is today – it was more a change of self that would result in an outpouring to others).  When the era of scholasticism came about out of the monasteries and churches, the ideas of Lectio Divina was simply ingrained in their minds as the proper way to learn.  The prayer was dropped when the texts were not sacred, and so the idea of Lectio, Meditatio, Contemplatio (Rallens uses Compositio – to write or create) was the mark of education in this era.  It was so common in fact, that it was often simply referred to as "making honey".  From early times bees were a symbol of the Christian church.  A bee worked tirelessly and most of its work went to benefit others.  Man and animals routinely eat the honey the bees give their whole lives to produce.  How do they do it?  They gather nectar, digest it, and then it is changed to honey in abundance for the benefit of others as well as their own needs.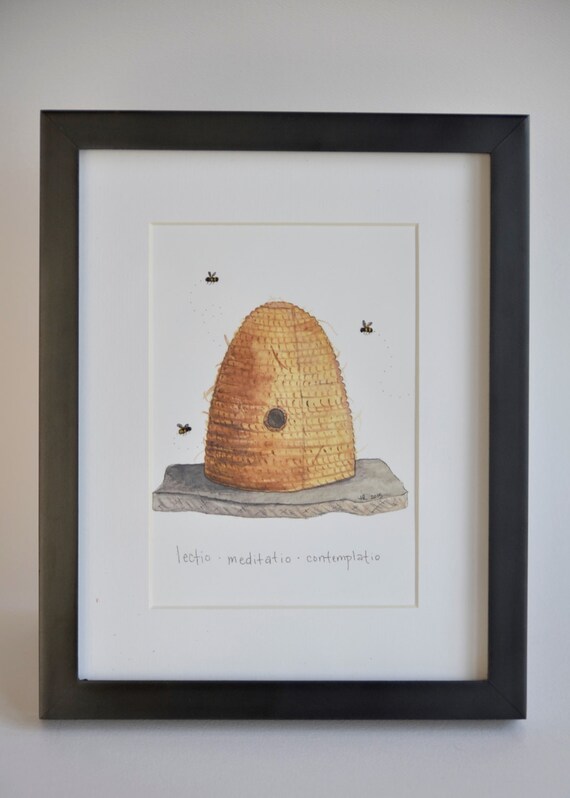 Are we to believe it was in the Church that we first saw this idea? Perhaps.  I would propose for your consideration, that the Trivium might be the first model for this way of learning.  For moderns, we may think of the seven liberal arts as seven subjects, but that thinking could not be more incorrect.  The trivium, or three ways, were more an approach to learning than subjects in and of themselves.  It was through them that one could then hope to make sense of their experiences – to understand what they are taking in, to discern its value, and to communicate one's thoughts.  Grammar, Logic, and Rhetoric would be the way a student learned to read, to think, and to communicate.  The trivium has to do particularly with language, so a student would take in language reading myths, poetry, singing songs, and hearing the great tales.  They would learn the skill of reading and writing, surely, but it was much deeper than that.  They would have been taking in the Greek culture with the reading they did.  Logic was then meant to refine one's thoughts for the ability to think and reason clearly were held in high esteem throughout Greek culture.  Socrates is quoted as saying, "I cannot teach anybody anything. I can only make them think."  However, what good are thoughts that one cannot express?  The effective communication of these thoughts to others comprised rhetoric.  To be able to share with others the lucid thoughts of a well educated man was the goal of the trivium.  Here we see again, the same pattern to take in, to digest, to be changed and grow.
In seeing this idea across the ages, it makes me look again at the way my school and home operate.  Am I trusting that what the children read and do throughout the day are enough to feed them, or am I overly concerned about packing more into the day or testing to confirm the "results"?  Do I give enough time for the Meditatio?  Is there enough free time for their minds to digest all that they have been fed?  Do they have ample time to be bored or quiet?  How can I protect the quiet in my home when six people live in this house?  Do I allow them my undivided attention when they are trying to share and discuss their thoughts or am I more likely to rush them or go about my own tasks, thus sending the signal that this part of learning is not important – that we are "done" rather than continually learning?